100 DAY PRIVATE NONPROFIT COACHING PROGRAM
Participate in this 100 Day Nonprofit Program
100 Days to a More Focused, Organized You.
In this nonprofit program you'll develop a project to solve community challenges & write compelling project stories in your newsletter to increase donations.

Overview of our 100 Day Nonprofit Coaching Program.

Nonprofit leadership skills you will Learn:
Great Program Design = New Donations + Increased Services

Develop a winning, impact oriented project while learning to:

become your nonprofit's go-to solution for community challenges
enjoy increased funding for your nonprofit program
grow, shine—and advance in your career
standout in an interview for a new job in the nonprofit world
get more done: less time—less stress
Who Should Join?
Advance your Career, Raise Funds, Solve Challenges

The nonprofit program is for non profit staff and job-seekers wanting to successfully solve community challenges. Participants have worked on programs as diverse as social services, community development, education, the environment, and social justice—and decided to enroll in the nonprofit program because they were:

building skill sets & visibility for a new job or promotion
hoping to boost donor communications and donations
wanting to learn to develop projects that solve challenges
seeking time saving techniques for getting everything done

What you will Do:
Nonprofit Leader Coaching. Design your own Solution-Oriented Project & Attract Donors

Train & Consult with a Nonprofit Coach. The non profit coaching program provides cutting-edge information, time-saving templates, training and expert consultancy—and leads you in developing a real project for your organization. You will:

use evidence-based activities for solving community challenges
write compelling project descriptions for increasing donations
facilitate meetings to connect with your beneficiaries and supporters
advance your career: design a winning project for your nonprofit
present your project's documentation during a nonprofit job interview
download time-saving templates for getting more done at work
What Participants Say:
"Thank you so much, Tim – till the next course. It will be a pleasure to go out and demonstrate the elegant simplicity and effectiveness of your system. It was also my great fortune to have been partnered with Sam, thanks to Tim. I thank you for a wonderful learning experience together. Looking forward to another time as classmates or colleagues." Carol Wallace.
"Tim and his online team are only an email away and based on my own experiences never failed to respond to my challenges, concerns, successes and queries. I know that my community members and I have benefited tremendously from our interaction with Tim and participation in the program. I do wish you continued success with your commitment and drive in providing excellent service, and valuable and practical knowledge." Gillian Primus
| | |
| --- | --- |
| MORE INFORMATION: Just scroll down for complete, detailed information about the Nonprofit Coaching Program. | |

100 DAY PRIVATE NONPROFIT COACHING PROGRAM
Detailed Nonprofit Program and Course Information
Nonprofit Executive Coaching. In this nonprofit coaching program you and I will work together, one on one for 100 days, on a project of your choice—exactly as I do with a client as a nonprofit consultant.
You probably work for a non-profit that is focused on programs such as animal welfare, community development, the environment—or a food bank or homeless shelter: and you love your non-profit and the work that you do.
Maybe you don't have enough funding for all of the services you would like to provide
Maybe project impact has been less than you had hoped for
Perhaps your staffing is low and you can't find enough time to get everything done
You would like to add to your skill sets in order to advance your career
It's possible that your communications need to be improved for better donor engagement
Training is great—but it's not enough.
Nonprofit Leadership Coaching. What I enjoy more is this blended nonprofit consulting and coaching program where we take training one step further. We take a non profit challenge you have identified—and work together for 100 days to develop a real project that works to solve it. We start off by clearly describing the need—and then we develop a project design, funding support documents, research donor possibilities, and then develop the project management tools to launch the project. I supply easy to edit templates for each of the steps—which you keep for developing future projects for your organization.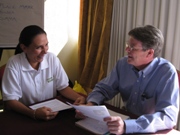 So this nonprofit coaching program is a combination of training, advising, and nonprofit consulting. As your nonprofit coach I will provide an experienced set of eyes, concrete feedback on your work, help you prioritize and focus on what's going to work best, and show you how to research evidence-based best practices. I will also show you tricks for working smarter and faster.
The nonprofit coaching program begins quarterly in January, April, July and October.
"Thank you for all your effort in putting together a great program and all of the program resources. Thank you for everything – for making this possible, for your guidance, and for your continuous optimism and encouragement. I look forward to the opportunity to work with you again in the next session." Wye Yee Yong.
If you can relate to one of the scenarios below, then this nonprofit coaching program is for you.
Are you considering a non profit career change, a new job search, or vying for a promotion?
Would you like to boost your donor communication skill sets for raising more funds?
Would you like to learn more about developing non profit projects that solve challenges?
Would you like to get more people behind your cause?
Would you like to learn time-saving techniques for getting everything done?
We will take approximately a month for each one of the following core steps:
Step 1. Clearly, and in a simple fashion define what nonprofit program you're hoping to develop and articulate the community you hope to work with.
Communities can be defined at different levels within your organization. This is why we need to clearly define which community at which level you are hoping to work with. For example, if you work with a food bank, your different communities could be defined as:
your volunteer team whose members you hope will remain for the long term
people in your town who have desperate need for your services but don't know about them
people who are currently using your services but who might be hoping for increased levels of service
your contacts at grocery stores that provide you with food and with whom you'd like to develop a more efficient working relationship
your donor community with whom you'd like to develop improved communication for increasing donor engagement and retention
Step 2. Conduct a participatory needs assessment with the community you hope to work with—and develop a simple and straightforward program outline complete with a clearly defined problem statement, underlying causes, solution oriented activities, and well defined goals.
Step 3. Develop a set of project management and donor presentation documents which will include an action plan, a project budget, a detailed schedule, and a program fact sheet (Letter of Inquiry). You will tell your nonprofit story in your blog and newsletter to attract donors and donations.
Twelve People Only. This nonprofit coaching program is limited to 12 people. We will communicate through the program forum, email, document attachments and photos.
RESULTS: What You Will Accomplish
By the end of the nonprofit program you will have developed a real project based upon real need determined with input from a participatory needs assessment—and you will have contacted donors for feedback and for relationship building.
You will have updated your blog with new posts describing project design progress—and you will have sent out an email newsletter with compelling stories about your community members. Most of all, you will gain confidence that you are working on the right things by using tested strategies that have worked for nonprofits in multiple projects. I'll show you how to do all of this.
Great Project Design = New Donations + Increased Services
This nonprofit program will lead you in developing a winning, impact oriented project to help you:
increase funding for your nonprofit program services
design impact and sustainability into your project
boost project successes using evidence-based techniques
engage donors and increase funding with improved communications
Write Faster and Save Time
I've created 10 sets of project design templates (detailed step-by-step instructions and finished examples of each module for you to use) that you can download and edit to best fit your emerging project design. 10 logical steps: No more writing from scratch—just edit and modify my templates to best fit your project. You will also be able to download a comprehensive set of studies and handbooks so that you can find specialized information quickly in your nonprofit's area of work.
You can use this nonprofit program for:
1. A New Project. Design a fundable, sustainable, impact oriented project from scratch.
2. For Pre-launch. Fine-tune a project you are about to launch to increase its manageability, its impact, and its sustainability.
3. For Projects in process. Fine-tune a project in process to solve challenges the project may have and increase its impact.
"This program was absolutely awesome! The course content, instruction, example projects, on-line resources and the most valuable – your timely guidance on the assignments were all perfectly done." Boris
"As you know, as a real beginner in designing projects, without your project example templates I could never have written even a single word by myself." Moise
"I'm so excited with the whole experience this training has provided me. The interaction with the community, sharing their lives, their enthusiasm in participating and opening up to me – and with lots of hope in seeing me engage with them." George
"This training program is an absolute cracker. After undertaking the course, I was able to relate and transform community need into a project idea that could attract donor funding. The exercise of transforming goals into a simple logical framework was particularly exhilarating and smooth. It was indeed an eye opener for me." Perry
We will use the structure of courses OL 201 and OL 202 where each one of the topics above is broken down into a step-by-step sequence of activities. However we will customize the courses to best fit your specific needs and organizational context.
Program Fee. This Nonprofit Coaching Program is affordable: your organization will simply pay $499 for the nonprofit program, templates and downloadable resources. There are no other expenses.
How to Enroll in the Nonprofit Coaching Program
Two simple steps and you're in!
It's easy to enroll in the nonprofit program. There are only two things to do: fill out the Non-Profit Application Form and pay the $499 program fee. The links are just below.
You can pay for the 3 Month Nonprofit Coaching Program here with a credit or debit card.
When you are ready to pay, click 'Add to Cart.' PayPal membership is not required; in the lower left you will see 'Don't have a PayPal account?' Click 'continue' and you will be linked to the credit card form for non-PayPal members.
If it's more convenient for you to pay by bank transfer we will be glad to send you instructions.
Write to us here
.
I look forward to working with you. The application form is just below.
Sincerely,
Tim Magee
Tim Magee began coaching nonprofits pro bono in the 1980s, and began consulting for nonprofits full time in 2002.