NONPROFIT TRAINING WORKSHOPS
How We Train Non Profit Staff
Train with us in developing sustainable programs for your nonprofit.
How we train non profit staff: We work with Nonprofits who are working on a program such as animal welfare, youth empowerment, education, community development, hunger, urban agriculture, immigration, the environment—or with a food bank or homeless shelter.
TRAINING WORKSHOPS IN PROGRAM AND PROJECT DEVELOPMENT
Every organization and project that we work with is different—and this progression gives us tremendous flexibility. Although we use this step-by-step process, the project's theme is 100% customized by the community need, your area of expertise, and by the project design as it develops.
Your organization will work side-by-side with your beneficiary community members in the true context of developing a non-profit program during this training workshop.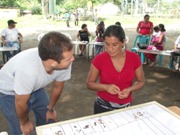 Design and Launch a non-profit program. This hands-on training program has been designed specially for staff of non-profit and donor organizations, and people considering a career change into the non-profit world. The course is designed to be used as a vehicle for you to develop a real project, in real time during this training program.
In this blended learning, 16 week training program you will participate in: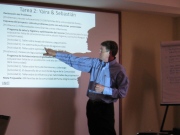 A. Participatory Needs Assessments. 3 Weeks.
Conduct participatory needs assessments with a community that you hope to work with in preparation for the live workshop—guided through distance learning.
B. A Face-to-Face Workshop. Full Project Design and Development. 5 Days. We will work with your team will as we begin working with your needs assessment to begin the development of a complete, fundable, launchable project.
C. Project Launch: Community Capacity Building: 12 Weeks. Return to your community and launch your project with the continued guidance of your workshop leader.
MARKETING, COMMUNICATIONS, AND FUNDRAISING
Other specialized training includes online fundraising, donor communication, and nonprofit marketing.
We Also Train Non Profit Staff in Mentored Nonprofit Certificate Programs.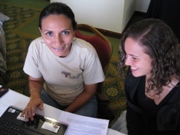 Train & Consult with a Private Mentor. The mentored certificate programs provide cutting-edge information, time-saving templates, training, expert consultancy, and lead you in working—during the training—on real projects for your nonprofit.
6 Month Mentoring Program.
Choose from these Four Nonprofit Certificate Programs:
These mentored programs are a combination of training, consultancy, and coaching. We will provide an experienced set of eyes, concrete feedback on your work, help you prioritize and focus what's going to work best, show you how to research evidence-based best practices, experiment with and test your approaches. We will also show you tricks for working smarter and faster.
FACE-TO-FACE CONSULTANCIES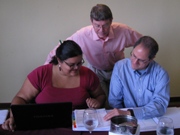 We've had the good fortune to have worked in the field with NGOs and nonprofits in the United States, Mexico, Central America, Africa & Southeast Asia. We've also worked with donors in North America, Central America, Europe, & Asia on proposal development & reporting.
DISTANCE CONSULTING. With the advent of the Internet, email and Skype video calls, We also consult, train, and write content at a distance.
Who are these training programs for?
They are perfect for you if you are a:
Nonprofit staff members wishing to sharpen their nonprofit skills
Consultants
Project managers
University students in a nonprofit programs
Executive Directors
People looking for charity jobs or nonprofit jobs
Scientists
University professors
Government agency staff members
Individuals considering a career change into the nonprofit world
Please free to
contact us
if you are interested in learning more about dates and how our training programs can increase your program impact.