Fundraising for Nonprofits: Attract Donors & Get Online Donations with your Website & Newsletters.
A Six Month, Mentored, Fundraising for Nonprofits Certificate Program
October 2, 2018 – April 30, 2019:

Includes a one month break for the holidays.
How to Raise More Money and Do More Good. Participate in this Private Mentored Fundraising for Nonprofits Program with Tim Magee
Fundraising for Nonprofits Online :

During this 6-Month Program you will learn how to optimize your website and improve donor communications to both attract new donors to your website and to begin receiving online donations.

See the full syllabus

.
Great Communication = New Donations

The training program will lead you in developing and launching a winning, targeted, nonprofit online fundraising plan to help you:

organize your nonprofit goals by type of support
clearly identify who your nonprofit target audience is
communicate that you do what they're looking for
write an achievable communications plan & calendar
use the way donors ask questions to attract them to your website
launch an effective campaign with new communications skills
boost nonprofit donor engagement and retain donors

Nonprofit Fundraising Skills you will Learn:
New Funding for Nonprofits = Greater Program Impact + Increased Services

become your nonprofit's go-to solution for fundraising ideas
enjoy increased nonprofit funding with nonprofit target marketing
build a focused team: unite staff, supporters & clients
fully engage with supporters & clients for maximum impact
save time—write once—use 3 times for funding + reporting + donor news
Who Should Join?
Advance your Career, Raise Funds, Solve Challenges

The program is for non profit staff wanting to increase non profit fundraising & community impact. Participants have worked on nonprofit jobs as diverse as social services, community development, education, the environment, and social justice—and decided to enroll in the program because they are:

building skill sets & visibility for a new nonprofit job or promotion
hoping to get more donors for nonprofits and boost donations with first-class donor communication
learning to promote projects that attract donations
seeking time saving techniques for getting more done

What you will Do:
Optimize Communications and Your Website to Find Nonprofit Donors

Train & consult with a private mentor. The mentored program provides cutting-edge information, time-saving templates, training and expert consultancy—and leads you in developing a donor-focused newsletter & website for your organization. You will:

work with CSDi consultants in a 6-month intensive program
improve donor communications for increasing donations
design a winning project for your nonprofit attractive to nonprofit donors
download time-saving templates for getting more done at work
quickly use templates to turn projects briefs into donor news
What Participants Say:
"Dear Tim. I have been reading about you for some years and that is why I selected this course. Thanks so much for your comments and positive enthusiasm on Assignment 2. I really enjoyed coming up with these ideas. Thanks so much for your lesson on writing tips. The tips on how to recycle parts of a Newsletter for other purposes are very useful. I am having lots of fun doing assignment 11, The Fact Sheet. Thanks so much for your supportive comments on my assignments and for your interest in our work in the Amazon." Richard Bodmer, Fundamazonia.
"Tim and his online team are only an email away and based on my own experiences never failed to respond to my challenges, concerns, successes and queries. I know that my community members and I have benefited tremendously from our interaction with Tim and participation in the program. I do wish you continued success with your commitment and drive in providing excellent service, and valuable and practical knowledge." Gillian Primus. National Disaster Management Agency.
"Thank you so much, Tim – till the next course. It will be a pleasure to go out and demonstrate the elegant simplicity and effectiveness of your system. It was also my great fortune to have been partnered with Sam, thanks to Tim. I thank you for a wonderful learning experience together. Looking forward to another time as classmates or colleagues." Carolyn Wallace. Social Development Specialist.
Links to the Mentored Nonprofit Communications Certificate:
Fundraising for Nonprofits: Design a Web Presence to Generate Donations & Increase Impact
Detailed Program Information
Today, the best fundraising plans for non profits need to include online fundraising where individual donors donate to causes featured in your newsletter and website.
This mentored program will be customized for you and your nonprofit. You will focus on a campaign you want to target for the six-month training period. During that time, we will 1) research who your potential nonprofit donors are, 2) assemble background information on your programs in order to instill donor confidence, and 3) package the information in the presentation format that will best create a call to action: Donate!
Developing your nonprofit fundraising plan. We will develop an approachable promotional calendar for your new promotions and newsletters. Then, we'll tune up your blog postings and newsletter to capture donor imagination—and make sure your nonprofit donation page is effective and easy to use.
But first, we need to establish your specific goals for new donors, and effectively present what you have to offer them to create a perfect fit.
One-on-One Mentoring. In this mentored training program you and I will work together, one-on-one, for six months on a fundraising challenge of your choice—exactly as we do as nonprofit fundraising consultants.
You probably work for a non-profit on programs such as social justice, community development, the environment—or a food bank or homeless shelter: and you love your non-profit and the work that you do.
Maybe you don't have enough non profit funding ideas for all of the services you would like to provide.
You want to improve online fundraising resources.
Perhaps you want to learn how to better promote a program/project so that it is attractive to donors.
You would like to add to your skill sets in order to advance your non profit career.
It's possible that you would like to improve your donor communications for better donor engagement.
Training is great—but it's not enough. What I enjoy more is this blended consulting and mentoring program where we take training one step further. We take a fundraising challenge you have identified—and work together for six months to develop a real campaign that works to solve it. I supply easy to edit templates for each step—which you keep for developing future projects for your organization.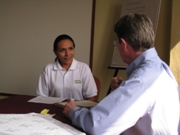 So this program is a combination of training, advising, and consulting. I will provide an experienced set of eyes and concrete feedback on your work. I will also show you tricks for working smarter and faster during the process.
Your Communication. Learn How To Attract Nonprofit Donors & Donations.
You will clearly define which donors are best for you. The donors may be individuals who are already making contributions to your organization inspired by your email newsletters and your website (full of compelling stories!). Or they may be brand new subscribers. In either case, I will help you clearly define the donors and identify and write compelling stories for them.
Syllabus: The step by step process.
This mentored fundraising for nonprofits program is designed in a progression where each weekly module represents one sequential step for you to take in the process of campaign design and development. Each assignment has real tools for you to download, print out, edit, and use as templates over and over again in launching new initiatives. We will take approximately one month for each one of the following core steps:
Month 1. Determine who your potential new donors are, what they are looking for, what you can offer them, and how they can find you:
In the first week we will have a chance to meet each other by telephone to learn more about your organization and potential campaign ideas. Next step:
First: Get specific about your goals for new individual supporters. Do you want supporters that are donors, volunteers, subscribers? How many?
Who are these new nonprofit supporters you are hoping to reach? What causes do they want to support? Where do they look?
What does your nonprofit do? Specifically, in a sound bite, let's make this sound attractive to your new supporters

Month 2. Email Lists. Capture Names: How to capture valuable new subscribers—and then send them the newsletters that convert them into donors.

Website review: quick and easy navigation and mobile friendly.
Collecting subscribers. What information should you ask of a new subscriber?
Installing pop-ups on your website. Which type? Where? What should they say?.
Do you have a free offer? Compiling an e-book or membership program to entice new subscribers.

Month 3. Planning campaigns.

Develop an achievable communications calendar.
Your communication connection: where will you launch your first campaign? Clearly define the channels that connect you to your target supporters: newsletter, blog or social media?
Writing techniques for getting the job done.
Project background: Packaging the program/project so that is is compelling to donors.

Month 4. Keywords and Simple Landing Pages: The importance of landing pages,keywords and conversions.

Keywords and the 21st Century Communication Secret: [Shhh… It's all about them!]. Use the same language your visitors use.
Landing Pages are Your Salesmen: They convert a casual visitor into a donor, volunteer or subscriber.
12 steps to building a perfect landing page template. Bonus checklist.
Demystifying SEO. Use keywords in your headings, page title, page description and content. Post information rich, long content.

Month 5. Email Newsletters. Romance your Subscribers.

Subject lines. Your chance to be both creative and a Sherlock too.
What should your email look like? How long? What will lure subscribers to click through to an actionable landing page?

We've covered a lot of advanced territory over the past 4 to 5 months. Now it's time to compile what you've learned into a campaign. Hopefully, you saved all of the PDFs from the different assignments for your review.

Refine your landing page from assignments 13 and 14. Perfect a master Landing Page template for replicable efficiency—and for material for completing your newsletter in the next assignment.
Refine your newsletter that you worked on in earlier assignments to be based upon the landing page from A 18. Create a master newsletter template for replicable efficiency.
Month 6. Tying it all together.
Compile what you've learned in the first 5 months and launch your first comprehensive campaign.
You will launch and promote your first fundraising communication using templates that I provide. This is a real-time review of the first 5 months above. Do it!
Connect: Make sure that your newsletter and your perfect landing page templates are dovetailed together for 1) rapid ease of copying and pasting and 2) to ensure that there is consistency between what the reader reads in your newsletter and finds on your landing page.
Incorporate a call to action in both the newsletter and in your landing page: convert visitors into donors.
Proof read: Final check: Yoast SEO, mobile friendly format, readability (send samples to different devices), check links, and check payment systems.
Launch/Promote. Send it! Track your performance over the first week and watch it grow. List what you would do better next time.
10 People Only. This mentored training program is limited to 10 people. We will have weekly communication through my advice and comments on your weekly assignment modules. I will have a monthly, 60 minute, private telephone consultation with you so that we can be able to work closely together on your project. I will also respond to quick questions that you send me.
Write Faster to Save Time
I've created 20 sets of program templates (detailed step-by-step instructions and finished examples of each module for you to use) that you can download and customize to best fit your emerging project. 20 logical steps: No more writing from scratch—just edit and modify my templates to best fit your project. You will also be able to download a comprehensive set of studies and handbooks so that you can find specialized information quickly in your nonprofit's area of work.
TESTIMONIALS
"Thank you for all your effort in putting together a great program and all of the program resources. Thank you for everything – for making this possible, for your guidance, and for your continuous optimism and encouragement. I look forward to the opportunity to work with you again in the next session." Wye Yee Yong
"This program was absolutely awesome! The course content, instruction, example projects, on-line resources and the most valuable – your timely guidance on the assignments were all perfectly done." Burt Mento
"As you know, as a real beginner in designing projects, without your project example templates I could never have written even a single word by myself." Moise Tend
How to Enroll in this Mentored Training Program
Program Fees: $1,200.00. Normally, when we work with an individual organization on a project as expansive as this—we might be looking at a hefty consulting fee. But, the Center has organized this mentored training program so that it is much more affordable: you will simply pay $1,200. This will cover the six month program, your coach and mentor, and the 20 template kits and downloadable resources. There are no other expenses.
Two simple steps and you're in!
It's easy to enroll in the program. There are only two things to do: pay the $1,200 Fundraising for Nonprofits program fee and fill out the Non Profit Program Participant Information Sheet. The links are just below.
You can pay here with a credit or debit card.
When you are ready to pay, click 'Add to Cart.' PayPal membership is not required; in the lower left you will see 'Don't have a PayPal account?' Click 'continue' and you will be linked to the credit card form for non-PayPal members.
Our CSDi training programs are offered in 4 venues to best suit your needs:
We look forward to working with you in the Fundraising for Nonprofits Program. The Program Participant Information Sheet is just below.
Sincerely,
Tim Magee
Executive Director
Center for Sustainable Development